My beloved blog, I have neglected you too long! I am sorry, I am writing the Demon's Talisman in a state of uplifted madness, hoping to finish the draft before I am away to the Bologna book fair. Soon I promise you contest winners, book reviews, and Strange Adventures in Foreign Places.

For now though, I wish to dazzle you with a beautiful picture! I hope you like it.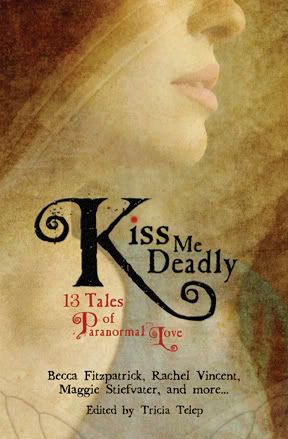 The authors in this anthology are, in updated full list: Caitlin Kittredge, Karen Mahoney, Diana Peterfreund, Carrie Ryan, Maggie Stiefvater, Becca Fitzpatrick, Michelle Rowen, Rachel Vincent, Daniel Waters, Daniel Marks, Michelle Zink and Justine Musk. And me.

It is out in August. (Edit: I lied! Out July 27th.)

The theme is Supernatural Romance, and so I HIGHLY anticipate there being a zombie boyfriend story in it.

I also anticipate seeing all the different ways unruly authors can run away in different directions with their stories. In The Eternal Kiss, also edited by the lovely Trisha Telep, very few vampires involved remained unharmed. (I have heard it referred to as the Screw You, Vampires! anthology). But people seem to enjoy it! I enjoyed writing my boyband vampires story, I know that.

My story in Kiss Me Deadly is called The Spy Who Never Grew Up, and it is about Peter Pan in a tux with a dead leaf as a bowtie, the Queen of England, and the captain of a crack team of killer fairies called Ninja Star. My editor, who said 'How about fairy romance?' may come for me at any moment. In which case - livejournal, avenge my death!