So in the run-up to Tuesday, I find myself often on the fainting couch, taking such deep breaths that I may end up inhaling my editorial letter.
In an attempt to ward off all the terrors to come (They'll change their mind! They'll accidentally put your cover on
Betsy the Duck's Delightful Day Out
! All of the books will be stolen by rogue ninjas!) I wished to make a post about the book stuff I wanted to tell you all about!
Go here to listen to a sample of my audiobook
, if you'd like! I was so pleased they hired someone English for it, as everyone in the book has an English accent (more or less, and aside from the Irish guy) and an American accent would have felt wrong. So I was listening happily, and then James Langton My Very Fine Audiobook Reader started doing
voices
, and I was totally gleed out by the respectively snarly and rueful voices of the boys.
Also, some people have been pointing out that I should surely have some Irish events. And I do! I have a launch, and two other events.
The Irish Launch of The Demon's Lexicon
June 18th, 6:30 PM
Eason. Level 3 Unit 12-14 Dundrum Town Center,
Sandyford Road, Dundrum, Dublin 14, Ireland.
Morning Event
June 15th, 10:30 AM
Hughes & Hughes
Ground Floor, The Pavilions Shopping
Centre, Swords, Co. Dublin
The Irish Lexiglass Event with Cassandra Clare
July 16th 6:30 PM
Eason
40 Lower O'Connell Street, Dublin 1, Ireland.
So if you are in Ireland around any of those times, I will be there. I have a great love for Eason's and for Hughes and Hughes, since they have both made me their June Book of the Month, and thus become my favourite bookshops.
In the UK, my events are as follows:
The London Launch of The Demon's Lexicon
MONDAY, June 8, 6:00 pm
Murder One Film Club, HOME Club,
101-106 Leonard Street
Shoreditch, East London
6:00 pm - Meet & greet and book signing
7.30 pm - Showing of HELLBOY
The Lexiglass Event
July 11, 2009: Glasgow, Scotland, 3pm
Borders Glasgow. 98 Buchanan Street, Glasgow, G1 3BA
Signing and appearance with Cassandra Clare
So I will be in both those places at the appointed times, clutching my pearls.
I am not kidding about those pearls. I have a big fake pearl necklace with a Betty Boop cameo hanging from it, which I bought in Paris.
SINEAD: Ahaha, look at that, how ridiculous, who would ever wish to own such a thing?
SARAH: Indeed, ahahaha! Excuse me, I need to go into that shop for a totally unrelated reason.
People who are stateside and might possibly like to see me, there may be things going on in San Diego and New York in late July, but the for-real tour is taking place in October. For one of the most awesome reasons in the world, which I cannot discuss yet.
KIND INQUIRERS: How will we find your book?
SARAH: Good question, good question! On shelves.
KIND INQUIRERS: Uh... we presumed. But where?
SARAH: In the shops!
KIND INQUIRERS: YOU HAVE TWO SURNAMES. WHICH DO WE LOOK UNDER?
SARAH: ... oh yes there is that.
In brief, I will probably be under B: that's the way I learned to shelve in the library I worked in. The rule seems to be: if it's double-barrelled it goes under the first surname - Tim Wynne-Jones goes under W, if it's not it goes under the second - Diana Wynne Jones goes under J. Which is not to say mistakes are not sometimes made! Blame my mother for keeping her name, and not wanting it linked up.
It is not the first time this has caused me problems. During many a fire drill at school, when we were all lined up alphabetically, someone would fail to see me where I should be in the R spot, and then there would be a mad dash to save me from possible flames.
Meanwhile I was generally calmly reading a book while in the B spot. Whenever I remember my schooldays, I remember them as a lovely, peaceful time. I don't understand why my teachers and classmates seem to recall them so differently...
Several more book things: on Tuesday I will put up a discussion posts here, and there are lots of different discussion posts on
marmalade_fish
!
And on Saturday 6th June we will be having an online readthrough/book party/chat, during the entirety of which I will be wearing a tiara. I will link you to this on the day!
Also, a book club at the Kitchener Public Library chose my book for its poster, which I think is very cool, so I wanted to show you.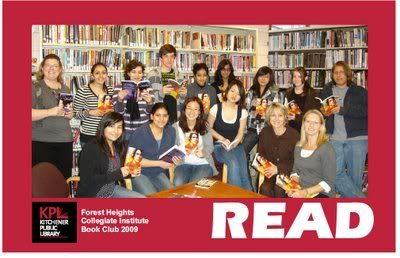 I did not know that people in book clubs got advance copies of books! My childhood was so deprived. But I was still thrilled, and sent them all
signed bookplates like this one shown in the contest post
- I sign along the
sword
. Isn't that brilliant?
And - that's everything, I think! I am absolutely scared to death, but looking forward very much to the coming weeks.
... I do hope people are prepared to start carrying me around on this fainting couch, mind you.