So six of my friends and I were discussing US and UK covers one day, and we compared and constrasted and generally came to very few conclusions about the difference between US and UK covers. We were focusing on young adult covers, as we're all young adult authors, and I thought it might be interesting to share some of our waffling here. Possibly even enlightening!
Okay, it was all Saundra Mitchell's idea and anything enlightening was probably said by her, and definitely not by me.
But as a reward for listening to my babbling, we thought we could give away seven books at once.
In the US, I think young adult fiction is seen as slanted more towards adults, whereas in the UK young adult fiction is seen as slanted more towards kids: with the landslide success of
Twilight
everywhere this is changing as we speak, but for now I've noticed that in the US teen sections are kept quite separate from and sometimes far away from the children's section, and in the UK they tend to be together and quite often to blend.
So, there's the question of different audiences for the US and UK people.
There's also the question of different sensibilities: I know a couple of US covers that were changed because 'that's too
sexy
for the UK market.' This overlaps with the question of audience, but might also have something to do with notions of propriety this side of the pond. ;)
And there's the question of timing. Some of us have always loved young adult fiction - for instance, you can try prying my copy of Margaret Mahy's
The Changeover
out of my cold, dead hands - but it cannot be denied it's exploded in recent years, and especially since
Twilight
, though there were signs of its rising popularity well before that. And
Twilight
had a much slower start in the UK than the US - possibly due to their very different covers. So I think the UK is less certain of young adult fiction: it has lots of experiments in style.
One example of such experimentation is a book I know of that was sold as straight-up YA fantasy in the US, was sold as YA fantasy with a different UK cover, and at the same time as adult fantasy with yet another different UK cover
and a different title
. This was deeply confusing for me. I very nearly bought the same book twice.
(
Collapse
)
Now, having seen so many US versus UK covers, you probably have opinions. You probably have favourites.
I cannot hear them. (NO. SERIOUSLY. PLEASE DO NOT TELL ME. SERIOUSLY, PLEASE DO NOT.) Books are not significantly like our children, as selling one's children in the marketplace is frowned on by many. But book covers are like our children's faces in a way - they mean a lot to us, and we don't have control over them. They're also marketing tools, so people should feel free to express their opinions on them: but doing it to the author is liable to just make the author collapse in a tragic heap of smelling salts and brandy. (Medicinal, of course!)
I would like to hear anyone's thoughts on the trends in covers on both sides of the pond, possibly how US covers sometimes get new covers in paperback but never adopt the UK ones, and how the UK industry often changes to the US covers to see what will happen. I'd also like to hear guesses on what the UK covers of the other three of the seven debaters - Saundra Mitchell of
Shadowed Summer
, Sarah MacLean of
The Season
and Sarah Cross of
Dull Boy
- would look like.
But if you want to pick favourites, good news, that's how you win seven books at once!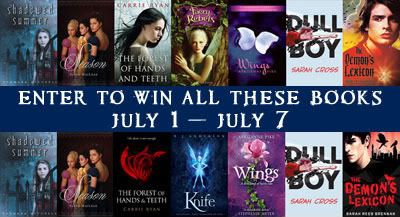 Go here to vote for Team US or Team UK, and possibly win either the seven books in the UK package complete with UK covers, or the seven books in the US package complete with US covers.